I am an adventurer and go-getter. My approach is not to wait for the perfect moment, but to take the moment and make it perfect. I have an insatiable thirst for knowledge, and enjoy using what I learn to better myself and others. My favorite pastimes include yoga, traveling, reading, dancing, and learning about business and new technology. You will always find me living in the moment, but I also have an ambitious agenda.

Currently, I am an Account Management & Acquisition Specialist in the field of digital marketing located in San Diego. I love what I do because it gives me the ability to offer people state-of-the-art solutions that help them grow and streamline their businesses. Furthermore, I relish the challenge of the full sales cycle, from first impressions and presentations to negotiating and finding win-win solutions. Prior to my current position, I worked for several startup companies where I wore multiple hats, and worked directly with C-level teams in marketing, operations, business strategy, and web development. The startup world particularly attracted me (and still does) because of the dynamic projects, and I want to learn how to start my own business one day. I am dedicated to becoming an excellent businesswoman, sister, daughter, and friend.


Powered by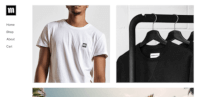 Create your own unique website with customizable templates.